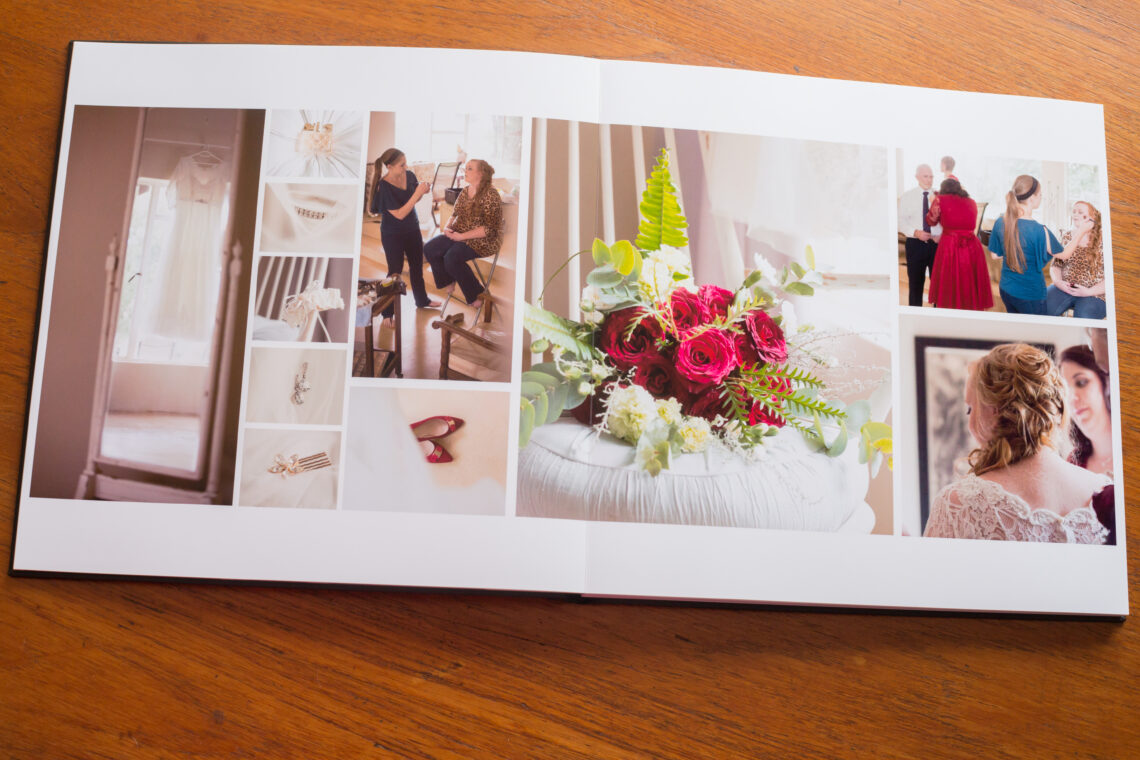 After months of planning your wedding, all is done and dusted. You received your images from your wedding photographer (Perhaps you used – The Girl With The Camera as your wedding and family photographer) and made some back-ups of the electronic files you received. Work got busy again and then life happened (2020 to be precise).
It's time to print your wedding album
You would love to flip through those special memories on your phone more often but it doesn't feel the same as when you page through a real book. Needles to stay you might need to print some images for the fridge at least.
Why do you need a wedding album?
Imagen paging through the album with your spouse and sharing stories about a specific moment. Kindles have been around for many years now, however people still buy physical books. Photos on a USB stick will be kept in a drawer and are easily forgotten about.
It's time to print your wedding album.
So are they worth the cost?
Yes, yes yes. 1000 times yes. If you are still wondering check out some reasons why it might be time to get your wedding album printed.
IT IS SOMETHING PHYSICAL YOU CAN TOUCH
Do not add your album to a shelf for safekeeping. Keep it where you can see it, use it, and don't keep it for only special times. Share your memories and if you need to wipe the coffee cup stains from the cover. Even those marks are part of your story.
A GREAT WAY TO SHOW FAMILY AND FRIENDS
When you see friends and family there is something nice about showing them a physical album, a book that they can go through showing your beautiful photos. Instead of sending friends a link to view your photos online, invite them round and relive the day together. If there is one thing I have learned in the last year is to cherish times with loved ones and not take it for granted.
 IT IS A BEAUTIFUL STORY – YOUR STORY
A wedding album is a storybook of your day, unique to you, a story from getting ready, the moment your bridesmaids see you in the dress, arriving in the car, walking down the aisle, the smile on your partner face, the tear in your mums eye, the celebration, the joy and happiness on guests faces. This book is all about your day to tell a beautiful story that will help you relive the day.  My husband and I decided we will watch our wedding video once a year to remember and to celebrate our marriage.
IT IS SOMETHING TO TREASURE – YOUR LEGACY
A wedding album is something that you will treasure forever, this little book will hold all your memories of one of the happiest days of your life. You will keep it safe, you will show it to family, and you will every so often reach for it to relive your special day.
When you have kids and want to show them Mum and Dad getting married, then you will reach for the wedding album. This book is a story and something you will certainly treasure. Unlike a USB hidden away in a drawer, you will keep this book within easy reach. This is your legacy.
TECHNOLOGY IS FAST-CHANGING
Wedding albums are future proof. No matter what happens with technology, a wedding album will never become obsolete. You'll never have to worry about not having an internet connection or a DVD player, or a USB. They'll always be there to hold, admire and cherish.
GIFTS AND MEMORIES FOR PARENTS AND FRIENDS
Having an album printed for your proud parents makes a great gift and also for them to treasure and relive the day. You could have a smaller album created and printed that you can give to bridesmaids and family while having a larger album created and kept just for you.
WHAT ABOUT COST?
Wedding albums have lots of options, the more pages the greater the cost, a leather-bound album will be more expensive than a printed cover and a large A4 book will be more than a smaller square mini-album. Costs for an album can be anywhere between R 1000 and R7000 depending on what you choose for your album.
WHAT IF I DID IT MYSELF?
Of course, you could do this yourself, however, it is making time to sit down and do this, finding a high-quality printer, using their album platform software to create the album layouts and then picking and arranging the photos. It is easy to start and then say 'I'll come back to it. There is certainly something nice about getting the book and the surprise and excitement of seeing your wedding day in photos, in a wedding album. Doing it yourself may be cheaper, however, you may not end up doing it at all.
QUALITY
You spent a huge chunk of your wedding budget on professional photography, why should you then print your images at a place that will not match the professional images you paid for? When you print (albums, regular print or products) through your photographer, you are ensuring that those beautiful images you downloaded will be printed on paper with premier quality and colour match.  
Where do you start when planning your wedding album?
 Mail me with your idea, and estimated budget and we can go from there. I will then ask you a few questions to help you get to your perfect album design : 
Start with a budget estimate.
Coffee table album or an easy to travel album size?
Thin or sturdy pages?
Leather or printed cover?
Plain cover or picture?
Lay flat or magazine type pages?
A mix of images or just bride and groom images?
Looking for a wedding photographer in Pretoria or surrounding areas of Gauteng, North West, or Mpumalanga?
We can decide if I pick your pictures or if you would like to pick your pictures for the album's design. You send me your images electronically, I design it, we chat about it some more after you have seen the design, I make a few changes and then we wait for the final product to be printed.