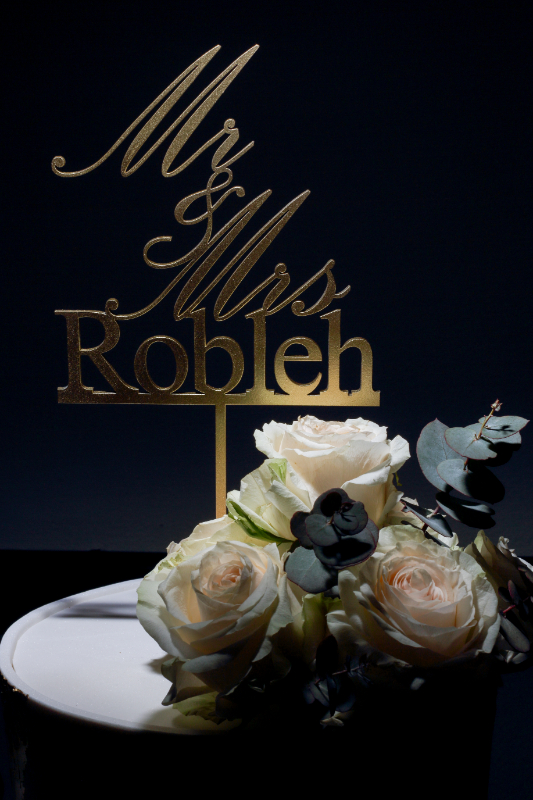 Cake topper ideas for your wedding cake
What type of cake topper fits your wedding cake? 
I just adore unique cake toppers. It can be from two lego characters to a surname decal out of shiny vinyl. 
Best Wedding Cake Toppers for a Show-Stopping Display
It shows me a little bit about your personality and style. It also creates interesting options for me when photographing the cake. I love capturing the detail and these would be some of the things I can get lost in. Playing with light to enhance your cake can make it even more fun as well as a focal point for guests. I mean why would you want your wedding cake to go unnoticed?  At some weddings I have been at, the DJ would set up amazing lighting for just the cake table. 
Ask the venue to keep an extra piece of cake for you to take with you for later in the evening.  You might not feel like eating cake halfway through the day or just be too busy to enjoy the taste of your chosen cake option like you hoped you could. Some couples even keep the smallest tear of the cake to take home with them, so whatever you decide just inform the venue to assist with this. 
Consider having fun with your cake topper.
Some of these items you might have to order well in advance from stationary vendors or artist. But some you will perhaps find in more unique places, like a toy shop, street vendor or your mother's cupboard. It can be anything really:
Think sparkles spelling LOVE
Wooden Monogram
Ceramic cake topper with your initials on it
Artisan wire topper with your names
Dog Figurines
and this list can go on and on forever.
Looking for a wedding photographer in Pretoria East or the surrounding areas
of Gauteng like Midrand or  Lanseria?
Every Story Is Beautiful – Every Moment Is Precious And I Would Love To Be Able To Tell Your Picture Story through photography. The emphasis is on documenting special moments, capturing spontaneous displays of emotion, telling your real love story, as well as creating artistic portraits and details.